AACWP Wedding Planning Training Course July 2021 (In House)
Once a year, AACWP offers our wedding planner training course in person!
The July Course will take place July 26th, 2021 - July 29th, 2021 in Dallas, Texas.
AACWP has set the standard for training courses for wedding planners with our in-house training program. This course consists of live lessons from some of the best wedding planners in the industry, interactive activities, and digital downloads of course materials. A course facilitator will be available throughout the course to answer any questions or concerns you might have. Come learn all about becoming a wedding planner and owner of a wedding planning business from the best in the business and let us help you take the next step in your career path! We are excited to have you!
After participating in the training courses, the student will be able to:
"Define Today's Wedding Planner and The Client Interview"
Define the role of the professional wedding planner
Understand the various characteristics and skills used by a wedding planner
Identify services offered by wedding planners
Identify skills and behaviors to be successful
Identify best practices to conduct a personal interview via phone and in person
"Choose Vendors, Handle Emergencies, Sales and Systems and the Basics of Planning"
Choose vendors and build a database
Read and understand vendor contracts
Understand how to handle problems and emergencies
Understand the basics of planning and budgets
"Understand the Fundamentals of Starting your Business"
Develop a plan to start a business
Learn how to price services
Advertise a business and build a portfolio­
Understand steps to register a business name

"Direct a Wedding Ceremony, Etiquette and Cultures, Reception and Guest Panel"
Recognize different types of religious ceremonies and unity options
Understand different cultures and traditions
Understand ceremony planning and gain knowledge necessary to conduct a ceremony rehearsal
Create documents necessary for planning the reception (budget, timelines…)
Select the venue
Understand floor plans and banquet event orders
Understand reception traditions and etiquette
Learn to work as team "the day of" discussion/questions with guest panel
*To receive a Certificate of Completion you must complete the following:

- Attend and complete all sessions by:
- Pass the course quiz at the end of each session
- Complete and pass assigned homework given in each session
Your Instructor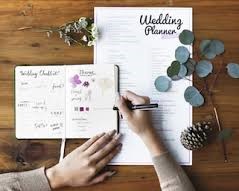 AACWP began in 2007, created by wedding professionals who saw the need for an organization dedicated to the education of those seeking to become wedding planners, and to elevate those already in the field through certification and continuing education. These founding members were Marsha Ballard-French, Trudy Baade, Jenny Cline, Laura DeBow, Shari Johns, Micki Novak, and Karen Radford. In creating the American Association of Certified Wedding Planners, they established member statuses that reflect not only a planner's education but experience level, recognizing them for the hard work they have put in, whether to become a Trained Wedding Planner, Certified Wedding Planner or Certified Master Wedding Planner.
They created high standards for each of these titles, and a code of ethics for all members to uphold in their businesses. Through AACWP, they created a network of support for wedding planners, catering managers, event managers and venue managers, each known for their role in planning and executing weddings. This premier group created and produced their first training course in 2007. Since then, they have produced courses each year, updating the curriculum to make sure their students received the best education in the wedding industry to set them up for success as well as polish the skills of those already in their careers.
The board of AACWP is filled with volunteers each year, each dedicated to helping and supporting the membership through their different roles. Our Executive Director sees to the day-to-day needs of the organization, while our Training Course Director sees to the needs of our ever-changing training courses, instructors and students. Our membership volunteers in various committee roles, helping with everything from creating our annual Vendi Awards (the premier industry awards gala in Dallas-Fort Worth) to developing our curriculum and continuing education events.
Frequently Asked Questions
When does the course start and finish?
Enrollment for the course will end July 11th. Start date for this course is July 26th, 2021. End date for the course is July 29th, 2021 with all homework to be turned in no later than August 12th.
What if I change my mind?
Once the course begins, there are no refunds. However, if unforeseen circumstances occur preventing you from completing the course, AACWP will apply the paid fee to the next scheduled course. No part of the course material made available as a student of the course, may be reproduced or transmitted in any form or by any means, electronic, mechanical, photocopying, recording, or otherwise, without prior written permission of AACWP.
What is included in the course fees?
Included in your course fees is the four day course with all digital materials. It is recommended you bring a laptop. If you do not have a laptop, a printed version of the course book will be provided to you for $20. All quizzes will be done online. You will also receive breakfast and lunch on course days. Parking is complimentary. Once you complete and pass the course, you will receive a completion certificate. You may then choose to join as a member of AACWP and earn your accreditation as a Trained Wedding Planner. The annual membership fees are not included in the course fees.